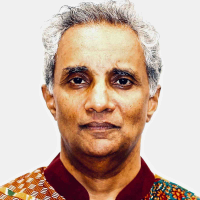 Inderjeet Mani
Thrillers, Literary Fiction, General Nonfiction
Mani is the award-winning author of the thriller Toxic Spirits, widely praised for its beautiful writing and terrifying story. He has previously published nearly three dozen short stories and essays, in addition to six scholarly books. A writer, scientist, and professor, Mani retired early from Silicon Valley to Thailand, where he volunteered in the Golden Triangle with the hill-tribe fictionalized in Toxic Spirits. Born in India and educated across four continents, he also studied creative writing at Penn (with Carlos Fuentes), at Bread Loaf (with Patricia Hampl), and at Harvard (with Paul Harding).
Video
Toxic Spirits Book Trailer
Reading... a vacation for the mind....
Dave Barry